Some great news for you all today! I will be taking part in the
Night School: Legacy
by C.J. Daugherty Blog our Challenge in the New Year, and as such, I have been asked to be one of the people to unveil the trailer for the book. Click play! Go, go, go!
Awesome, huh? But that's not all! The blog tour isn't just an ordinary blog tour! It's also a challenge, a challenge that comes with a prize. Read on...
Do you have what it takes to face the Night School challenge?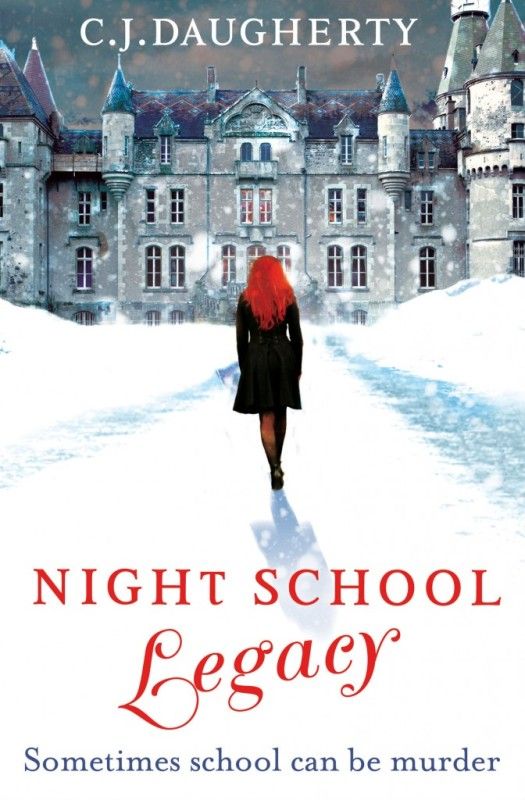 To celebrate the publication of CJ Daugherty's new book Legacy, she is offering fans of Night School the chance to join Allie and her friends in becoming members of the secret student group Night School. In order to prove you've got what it takes to join the highly competitive Night School you will have to distinguish the 14 skills every Night School member should have which will be hidden across the 14 blogs taking part in the tour.
Everyone who successfully completes the challenge will become a Night School member for life and will receive the Night School membership charter and Night School members' badge as proof of membership, but, because intelligence and speed are two of the most important Night School skills, we will be rewarding those of you who are able to collect and enter the 14 skills in the fastest time. The first ten entrants to correctly enter the 14 skills will win an exclusive members only goodie bag, including: personalised copies of both Legacy and Night School as well as a Night School members material badge which can be sewn onto a book bag or school blazer and a place on an exclusive Google Hangouts chat with CJ Daugherty herself!
Night School Challenge Rules:
Visit 14 book blogs between 3rd – 10th January
Locate and collect 14 Night School Skill words
Return to the Night School Members page to enter your collected skills by 13th January
The entry form will be live from January 10th and will close at midnight on January 13th
If you successfully complete the challenge you will become a Night School member for life – when this happens you will receive a membership charter and Night School members badge to download
The first ten people to receive Night School membership will be rewarded for their speed with an exclusive Night School goodie bag and a place on a Google hangouts chat with CJ Daugherty!
For more information, visit the members page on CJ Daugherty's website here.
How awesome does that sound, huh? So be sure to visit all the blogs - banner coming soon, will be put on the sidebar - and come back to mine on the 10th January for my blog tour post!