In My Mailbox
is hosted by Kristi of The Story Siren. Check out her
awesome YA reviews
. All links go to Goodreads.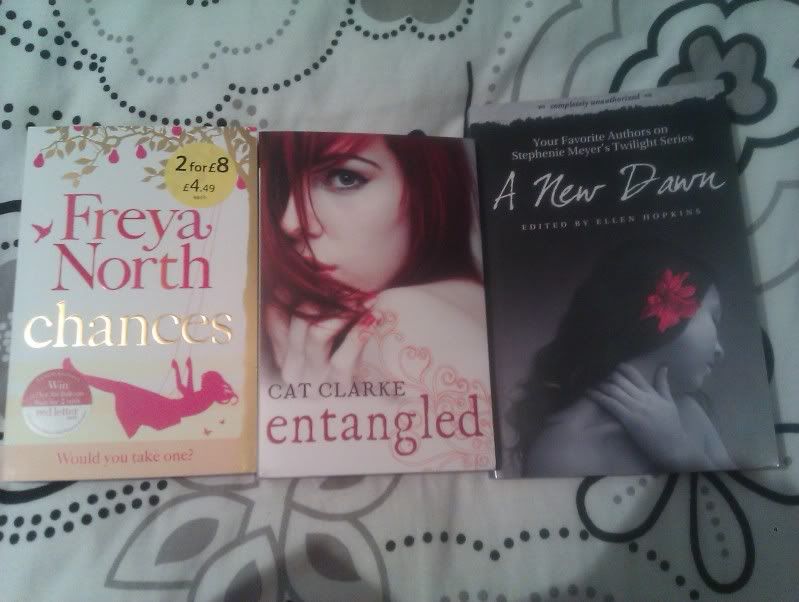 Bought:
Entangled by Cat Clarke
I realised I hadn't bought myself a finished copy. Now I have one! I do love this cover!
A New Dawn: Your Favourite Authors on Stephenie Meyer's Twilight Series, edited by Ellen Hopkins
I have wanted this book for AGES, ever since it was originally released as a Borders' exclusive in America. I found out the other day that it was released again, and was able to order it on Amazon. I so wish it was available when I was writing my essay on the Twilight series when I was taking my Young Adult Fictions class. It would have been gold dust! Reading it now, and I'm really enjoying it! Makes me want to pick up Twilight again.
Chances by Freya North
I may or may not review this book. It's neither YA or fantasy, so fits neither blog. It's adult romance, and I absolutely love Freya North as her novels are always so funny! I've yet to read her last release, Secrets, but I couldn't not buy Chances. Looking forward to it.
So I'm a happy girl this week, yet again.