In My Mailbox
is hosted by Kristi of The Story Siren. Check out her
awesome YA reviews
. All links go to Goodreads.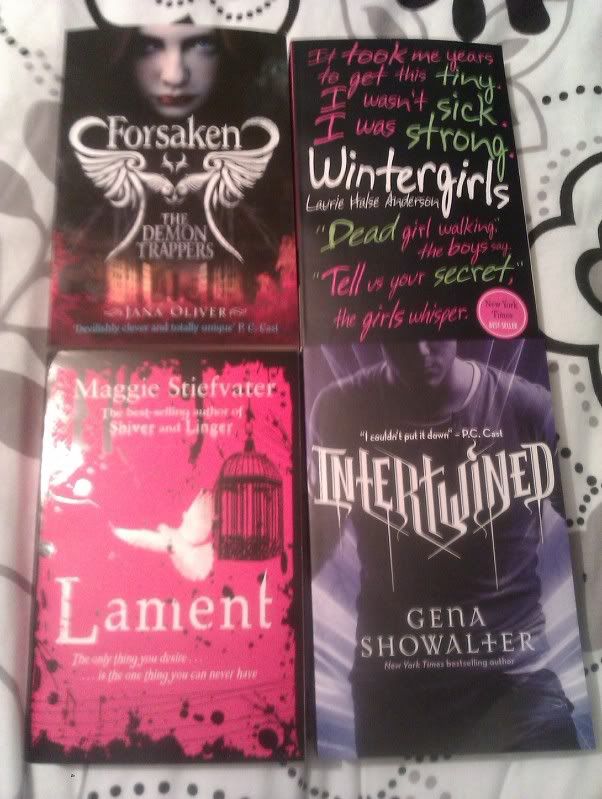 For review:
The Demon Trappers: Forsaken by Jana Oliver
- Macmillan UK
This is called The Demon Trapper's Daughter in the US. I'm really looking forward to this, it sounds really, really good! So exciting! One for the 2011 Debut Authors Challenge.
Wintergirls by Laurie Halse Anderson
- Scholastic
In a wary kind of way, because of the subject matter and inevitable depressive side, I'm looking forward to Wintergirls! I've heard such great things about it! I just hope it won't bring me down too much. The cover reminds me a little of the cover for
Second Star to the Right by Deborah Hautzig
, I like the idea of the words.
Lament by Maggie Stiefvater
- Scholastic
I've been looking forward to this novel for ages, long before Shiver came out over here. I wasn't a massive fan of Shiver, which is making me a little wary of Lament, but it sounds amazing, so I'm going to give it a go.
Intertwined by Gena Showalter
- Mira Ink
How amazing does this book sound?! I am SO excited to read it! It sounds so unique! One for the 2011 Debut Author Challenge.