In My Mailbox
is hosted by Kristi of The Story Siren. Check out her
awesome YA reviews
. All links go to Goodreads.
For review:
Delirium by Lauren Oliver
- Hodder & Stoughton
Yes, I have already received an ARC of Delerium, but now I have a beautiful beautiful hardback! I must say, I wasn't much of a fan of the cover until the hardback arrived. It's just gorgeous! And this book is amazing! Review
here
.
Withering Tights by Louise Rennison
- HarperCollins
I love the cover for this book, but I'm not sure if it's my thing or not. Wasn't really a fan of the Georgia Nicholson books, but I may give this a go.
Gifted - RHCB's Blogger Brunch Goodie Bag:
The Kissing Game by Aiden Chambers
Lots of short stories! This actually sounds pretty good, I'm looking forward to reading it!
Long Lankin by Lyndsey Barraclough
This sounds really spooky, but everyone was raving about it, so I may give it a go. During the day. One for 2011 Debut Author Challenge.
The Emerald Atlas by John Stephens
I'm not sure about this one, it sounds kind of young. Everyone raved, though, and it's for fans of Harry Potter, so I'll give it a go. We were also given a really cool notebook (the completely green book in the photo) which is nice! Another for the 2011 Debut Author Challenge.
In the Sea are Crocodiles by Fabio Geda
This book is based on a true story. I'm really not sure about it. Doesn't sound like my thing.
The Iron Witched by Karen Mahoney

Excited!!! Yes, I already have a proof, but we were given finished copies that Karen signed for us!!! Look...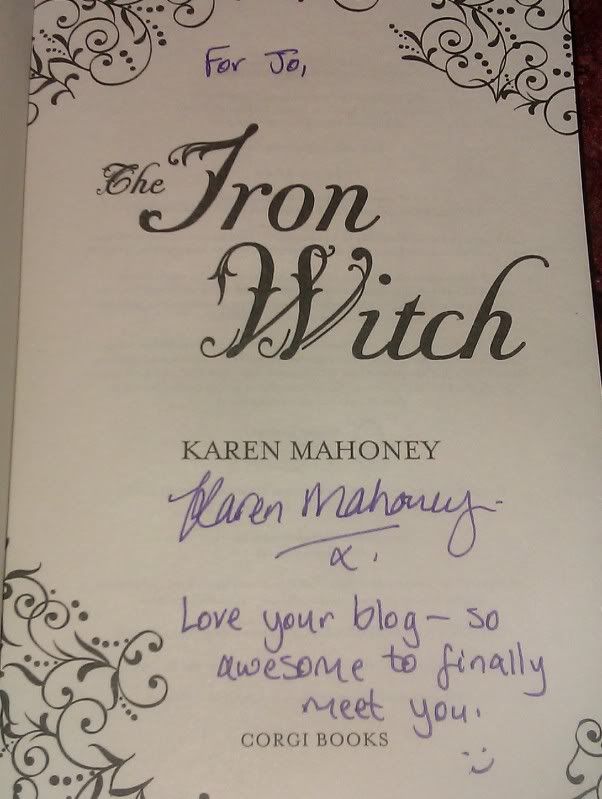 Karen gave me the best complimen! She told me that she's been reading my blog for ages and really likes it! I was so chuffed! She knew I existed! Hey Karen! :)
We were also given this really cool mug promoting My Dad by Anthony Brown, a children's book. Cute, huh?
Gifted - When we could raid RHCB's Shelves:
Ways to Live Forever by Sally Nicholls
Turns out I already have this according to Goodreads - whoops! I didn't realise. Too many books! But it does sound amazing!
The Boyfriend List
&
The Boy Book
by E. Lockhart
I have wanted to read The Boyfriend List for aaaages! So I snapped it up along with the sequel! Looking forward to them!
You Against Me by Jenny Downham
I now have a lovely finished copy! Happy happy happy! I loved it! You can read my review
here
.
So I am a pretty happy girl! If anyone is interested in seeing some of the photos from the Blogger Brunch, you can see them on
Facebook
- need to have added me as a friend though.