News for you this week!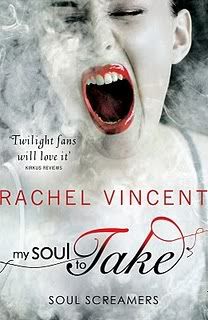 Rachel Vincent has made available on her
site
the
Netherworld Survival Guide
, written by Alec from the Soul Screamers series. UK readers will have the Guide as bonus content in their copies of My Soul to Take, but it's new to everyone else. Taken from Rachel's
blog
, she says:
"It may take a minute to load. Once it's loaded (it'll look like a file folder), click and drag the center of the folder to open it. The corners of the pages will curl when you hover over them. Again, click and drag to flip the pages. Careful, though. They can be ripped out. If you accidentally "drop" a sheet, reload the page and you should be good to go. Cool, huh?"
Check it out!
-------------------------------------
Courtesy of Razorbill UK, I have some Across the Universe by Beth Revis goodies to share with you! Haven't heard of it? Here's the blurb...
Across the Universe by Beth Revis
-
Amy has left the life she loves for a world 300 years away Trapped in space and frozen in time, Amy is bound for a new planet. But fifty years before she's due to arrive, she is violently woken, the victim of an attempted murder. Now Amy's lost on board and nothing makes sense - she's never felt so alone. Yet someone is waiting for her. He wants to protect her; and more if she'll let him. But who can she trust amidst the secrets and lies? A killer is out there – and Amy has nowhere to hide...
From Amazon UK
Sounds amazing, huh? Click the image above to pre-order your copy. And now I have the trailer to share with you!
Awesome, huh? If that doesn't make you wish the 3rd March, when the book is released, gets here
right now
, maybe this will -
the first chapter
!
And if you haven't liked the
Across the Universe UK Facebook page
, I highly recommend you do so! In the not too distant future, an exciting competition challenge will be taking place on the page!
-------------------------------------
Books to check out:
When You Reach Me by Rebecca Stead
- 6th Jan 2011 - click the image to buy a copy.
Miranda's life is starting to unravel. Her best friend, Sal, gets punched by a kid on the street for what seems like no reason, and he shuts Miranda out of his life. The key that Miranda's mum keeps hidden for emergencies is stolen. And then a mysterious note arrives:

'I am coming to save your friend's life, and my own.
I ask two favours. First, you must write me a letter.'

The notes keep coming, and Miranda slowly realises that whoever is leaving them knows things no one should know. Each message brings her closer to believing that only she can prevent a tragic death. Until the final note makes her think she's too late.
From Amazon UK