In My Mailbox
is hosted by Kristi of The Story Siren. Check out her
awesome YA reviews
. All links go to Good Reads.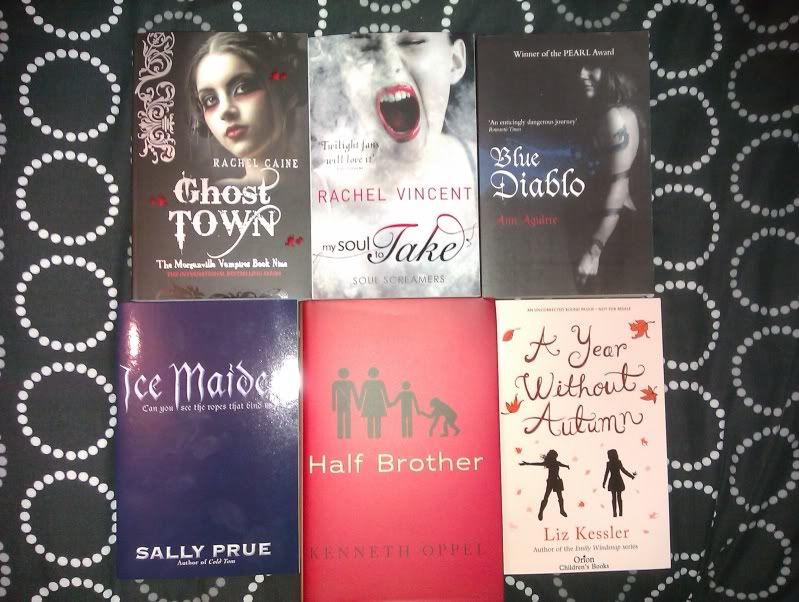 For review:
My Soul to Take by Rachel Vincent
- Mira Ink
Wooo! UK edition! This book has such a pretty cover! I have already
reviewed
the US edition, but Rachel Vincent releases her debut YA novel in the UK next January (Soon-to-be UK 2011 Debut Reading Challengers, keep your eyes out for it)! I'm also excited about Mira Ink, Mira's new imprint for teenagers. I look forward to seeing what else they publish next year!
A Year Without Autumn by Liz Kessler
- Orion
This one sounds intriguing! Sounds quite good, but maybe a little young? I'll see how it goes.
Ice Maiden by Sally Prue
- OUP
This is the prequel to Cold Tom, but I've never read it. Fortunately it can be read as a stand alone. It's a very short book, which is quite good, because it's set around the second world war, and even though it includes fae, I'm not a big war fan. Hopefully it'll be the sort of book I'll enjoy.
Half Brother by Kenneth Oppel
- Random House UK
I have received an ARC of this book previously, but now I have a nice finished hardback copy! :)
Bought:
Ghost Town by Rachel Caine
The ninth book! I am sooo excited! Once I'm done reading my current novel, this is next! I cannot get enough of this series! Love love love! :) And how GORGEOUS is the cover? Loooove!
Won from
Gollancz Dark Fiction
:
Blue Diablo by Ann Aguirre
This book sounds SO good! There is the slightest hint of Raine Benares from Lisa Shearin's series about the main character. A "Handler" sounds almost identical to a "Seeker". I am really excited to read this, a good ol' adult urban fantasy! Will be reviewed on Ink and Paper.
I'm pretty happy!