In My Mailbox
is hosted by Kristi of The Story Siren. Check out her
awesome YA reviews
. All links go to Good Reads.
For review:
Black Swan Rising by Lee Carroll
- Transworld
This book sounds really dark and intriguing! I'm excited to read it!
Of All the Stupid Things by Alexandra Diaz
- International Book Tours
Fortunately I'm the last on the list for this book, otherwise I'd have had to pass on it. I can't read to deadline at the moment. This sounds really intriguing! I'm really looking forward to reading it!
Tyme's End by B.R. Collins
- Bloomsbury
A creepy ghost story! Not sure about this. I'm not big on horror, I'm a bit of a wimp. We'll see.
My Sister Lives on the Mantlepiece by Annabel Pitcher
- Orion
This book sounds absoloutely amazing! It really sounds so good! And the people of Orion have been kind enough to allow me to keep my review back for July for Death and Bereavement Month, even though the book is released in March next year!
From Atom's Blogger Party:
Nightshade by Andrea Cremer
Shiiiiiny proof! Looks lovely! I'm a lot more excited to read this book now after hearing those in the know talk about it. Really looking forward to it!
Rosebush by Michelle Jaffe
Oh my god, you have NO IDEA how excited I am to read this book! It sounds awesome! I really cannot wait!
Monster High by Lisi Harrison
This sounds fun! Really going to enjoy reading this, I think :)
Pretty Little Liars by Sara Shepard

I didn't like the sound of this originally, but was raved about by an Atom publicist, and sounded quite good, so I'm going to give it a go.
Betrayal by P.C. and Kristin Cast
I read the first one, wasn't much of a fan, but always said I'd give the series a go again. So I picked this up. Hoping the series got better!
Also the first two books were given to everyone, along with a catalogue, in a cool House of Night bag, but it got dirty with the smooshy cakes, lol.
Gifted:
Shiver
&
Linger by Maggie Stiefvater
- Scholastic
A few weeks back there was a Maggie Stiefvater blogger event that I was invited to, but couldn't make it unfortunately. But the lovely people at Scholastic got me some signed copies anyway! And Linger is personalised:
I also got a signed sample of Lament and a Linger postcard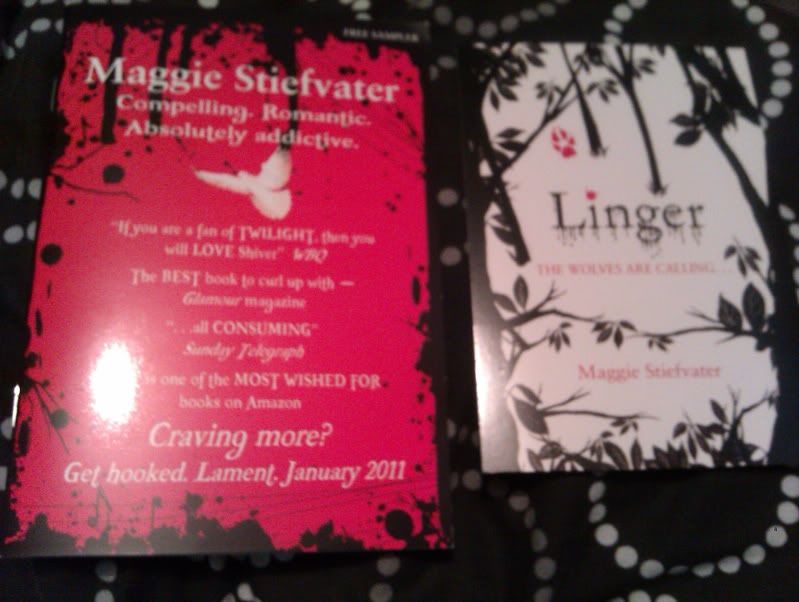 Happy girl, I am! :)