In My Mailbox
is hosted by Kristi of The Story Siren. Check out her
awesome YA reviews
. All links go to Good Reads.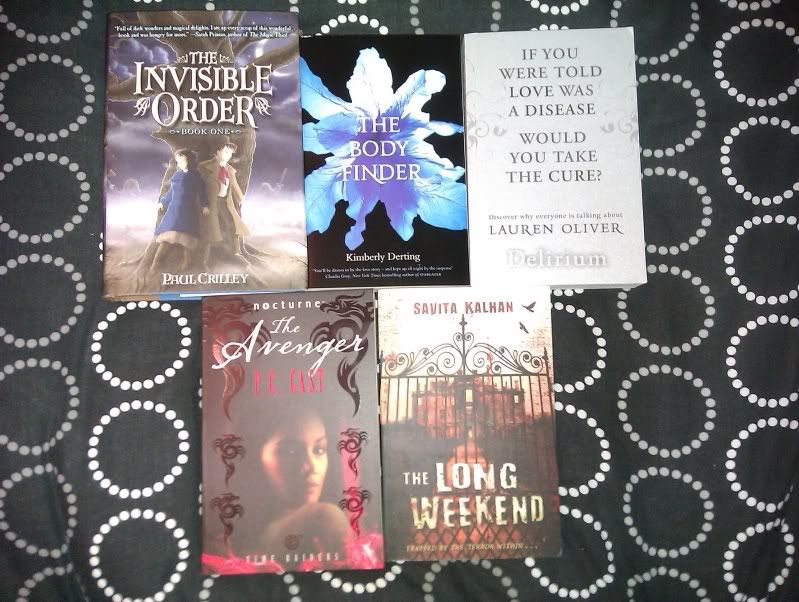 For review:
The Invisible Order Book 1: Rise of the Darklings by Paul Crilley
- Egmont USA
Ohh, I am so excited to read this book! It sounds soo cool! A nice fantasy! I'm looking forward to reading it!
The Body Finder by Kimberly Derting
- Headline
This book sounds amazing; a great paranormal thriller! Going to be good!
Delirium by Lauren Oliver
- Hodder & Stoughton
Oh. My. Word. I am sooo excited to have this book! I'm currently reading Before I Fall and loving it, and this book just sounds incredible! Really excited!
The Long Weekend by Savita Kalhan
- Author
This book sounds absolutely fantastic! Such a scary sounding thriller, and I've heard great things about it! I'm looking forward to reading it, but also pretty scared - I had nightmares just from knowing it was coming!
Gifted:
The Avenger by P.C. Cast
- Noctourn
I was sent this book for signing up to the Mills & Boon Nocturn newsletter. I'm intrigued, but I'm not holding my breath - I wasn't a fan of Marked, so I'm not sure whether I'll like this. I'll give it a go. Will be reviewed on Ink and Paper.
Not a bad week, eh? :)