In My Mailbox
is hosted by Kristi of The Story Siren. Check out her
awesome YA reviews
.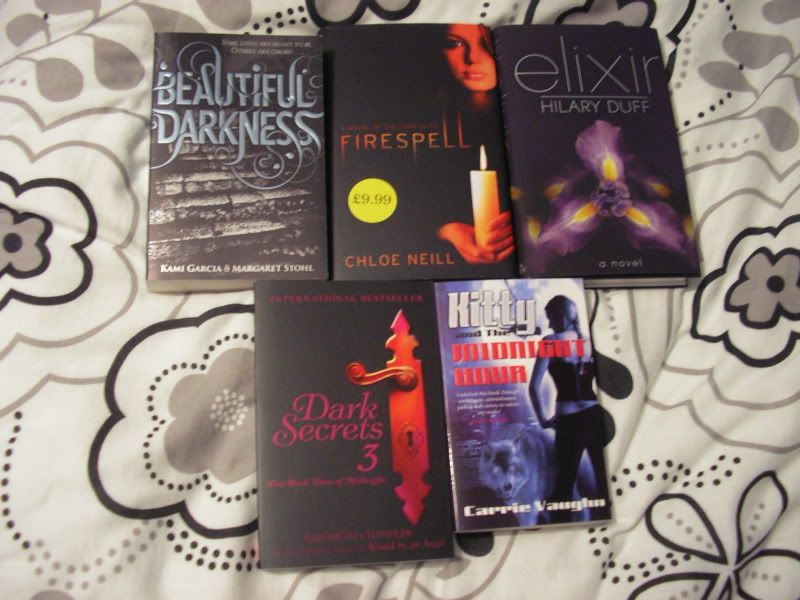 For review:
Beautiful Darkness by Kami Garcia & Margaret Stohl
- Puffin
I haven't yet read Beautiful Creatures, but I am so excited to read both of them! They sound amazing! I can't get enough of my paranormal romances! :)
Firespell by Chloe Neill
- Gollancz
I have wanted to read this book for ages! I am a huge fan of Neill's adult series, The Chicagoland Vamoures, so I'm really excited to try out her YA series.
Dark Secrets 3 by Elizabeth Chandler
- Simon & Schuster UK
I have heard such great things about these books, and they sound so good! I have the first two, but I've not yet read any of them. Looking forward to them all.
Elixir by Hilary Duff with Elise Allen
- Simon & Schuster UK
This book sounds really good! I have to say, I do have my doubts with it being a star writinng it, but I'm goin to try to ignore that when I read it and forget who the author is. But it does sound brilliant! I'm looking forward to reading it!
Won from
Gollancz Dark Fantasy
:
Kitty and the Midnight Hour
by Carrie Vaughn
Will be reviewed on Ink and Paper. I am so looking forward to reading this! I've fancied this series for such a long time, so I'm excited I now have it to read! I won this as a runner up in Gollancz Dark Fantasy's "Dear Kitty" contest, where I wrote in as a vampire with fang ache.
Looks like I'm in for some good reading! :)